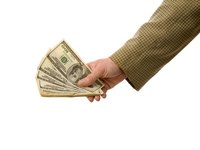 The U.S. tax code encourages charitable donations by making them tax deductible, but it limits the donations you can deduct to 50 percent of adjusted gross income each year. However, the Internal Revenue Service says a limit as low as 20 percent of income may apply, depending on the type of organization receiving your donation and the form your donation takes.
50 Percent Organizations
In general, says IRS Publication 526, Charitable Donations, you can deduct contributions up to 50 percent of your income if you donate to non-profit organizations dedicated to charitable, religious, educational, scientific or literary purposes, to groups dedicated to preventing cruelty to children or animals or fostering amateur sports competition, and to support public purposes of federal, state and local governments. The organization must receive a substantial part of its support from public and government contributions and respond to general public needs. Examples include public schools, state universities, nonprofit hospitals, United Way, Salvation Army, American Cancer Society and U.S. Olympic Committee.
30 Percent Organizations
A special deduction limit of 30 percent of income applies on donations of cash or property made to certain types of membership organizations such as veterans' groups and fraternal societies or lodges that conduct activities to benefit the general public, says the IRS. To be deductible, your donation must be used only for the organization's activities that benefit the general public. Donations that only benefit the organization's members can't be deducted. IRS Publication 78 lists the groups with 50 percent and 30 percent deduction limits.
Types of Donations
In general, you can deduct cash donations and the fair market value of donated property up to the 50 percent of income limit, says the IRS. But a special 30 percent of income limit applies to donations of investment property such as stocks or real estate unless you subtract from current fair market value the amount that would have been a long-term capital gain if you were to sell the property. If you make that value adjustment, then the 50 percent of income limit applies to donations of investment property. If you donate investment property to membership organizations such as veterans' groups or fraternal societies, your tax deduction is limited to 20 percent of income and there's no value adjustment.
Carryover Rule
If your charitable donations exceed the percentage-of-income deduction limits in any one year, you can carry over the excess and deduct it for up to five subsequent years until the excess has been used up. In each carryover year, says the IRS, you add the excess contribution from a previous year to the contributions you made in the current year, subject to the annual 50 percent of income limit. Contributions subject to lower deduction limits remain subject to the same lowered limits in carryover years.