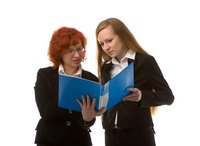 Secretaries provide administrative support in business, medical and legal offices. A secretary maintains office files, manages schedules, answers correspondence and conducts projects such as research for management staff. A secretary may also order supplies for the office, which may include hiring vendors and services. The average salary for a secretary, according to PayScale, is between $29,306 and $44,481 as of December 2010.
Education
The minimum requirement for a secretary position is a high school education. Secretaries should have skills such as typing, filing and organizational skills to work in an entry-level position. High schools and vocational schools offer education to students in keyboarding and office skills. Business schools and community colleges offer training programs for secretaries, which offer classes in computers, bookkeeping and project management.
High-level management employers may seek secretaries with a degree in business or the company's industry. Secretaries with a degree perform complex duties such as project management and preparation of reports for the employer. A secretary with a degree may direct the activities of other office staff.
Skills
Secretaries must have good organizational, time management and communication skills. A qualified secretary must be skilled in office software such as word processing and spreadsheet programs. The employee in this role may continue training to stay current on new software and technology for the office.
Specialized Training
Secretaries working in a legal office can receive certifications as a legal secretary. Certifications also exist for administrative assistants, such as a Certified Administrative Professional or Certified Professional Secretary designation. Certification shows potential employers the level of skill the individual has in secretarial tasks. Certification requires experience and an examination, which demonstrates the secretary's level of knowledge and skill.
Advancement
A secretary can advance into a higher position such as a paralegal, office manager or supervisor role. Advancement can occur with experience in a business office as the secretary takes on more responsibility. Legal secretaries can advance to a paralegal position with training and legal education, according to the Bureau of Labor Statistics.