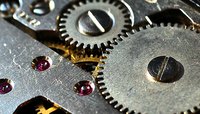 Productivity is measured by comparing the output from work to the input. As the U.S. faces increased competition from workers in other countries, interest is increasing in how to make our workforce more productive. Several key factors affect productivity in the workforce.
Job Satisfaction
Employees who are satisfied with their work tend to be more productive. Recognize your employees by commending them for a job well done. They can be recognized financially when bonuses are distributed, but there are important non-financial benefits that can be provided as well. For example, provide an employee with a flexible work schedule.
Communications
Clear communications improves productivity. Provide clear instructions to the employee on how to perform assigned work, including a comprehensive job description. The instructions reduce the time required to understand how to accomplish assigned work.
Clearly communicate an employee's job objectives and jointly agree on how those objectives will be achieved. If problems occur, discuss them with the employee so corrective action can be taken, resulting in improved productivity.
Provide ongoing feedback on how a job is being performed. During annual reviews, have the employee rate his performance and discuss any differences between his rating and yours. The performance review should focus on ways to increase productivity. Also conduct an annual employee survey to gauge the views of the workforce as a whole.
Attendance
Late arrival to work and excessive absences causes other workers to spend less time performing their assigned jobs, reducing overall productivity. Keep accurate attendance records and discuss and document excessive absences.
Tools
Provide the right tools to perform a job productively. One example would be providing efficient software and hardware to support a person's work. Make sure a worker has received the necessary training to work productively.
Teamwork
Hold weekly staff meetings so that everyone feels part of a group with a common purpose. Discuss accomplishments for the past week and a plan for the coming week. Ask staff members to present what they accomplished during the previous week. Solicit suggestions and ideas to improve the department. Develop and assign projects that require members of the department to work together.
Morale
Periodically take employees to lunch. Offer promotional opportunities and support workers in their desire to get promoted and take on more responsibilities. Add a fun element to work such as providing a birthday cake to employees on their special day and taking your department out to lunch during the holidays.