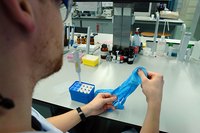 Medical laboratory technicians set up and operate laboratory equipment to perform various tests on substances such as food, blood and drugs. Salaries for medical lab techs vary based on a variety of factors including experience, location and education.
Median Salary
According to a December 2010 survey by Salary.com, the median salary for a laboratory technician in the United States is $40,892. The lowest 10 percent earn less than $33,737 while the highest 10 percent earn more than $49,480. The middle 50 percent (from the 25th percentile to the 75th percentile) earned between $37,114 and $45,387.
Salary Based on Experience
Salaries tend to increase as laboratory technicians gain experience according, to a December 2010 survey by PayScale.com. A lab tech with less than one year of experience can expect to earn between $28,968 and $34,492. With one to four years of experience, he will make from $27,461 to $39,858. And with five to nine years of experience his salary should be between $29,715 and $44,479. By the time he has 10 to 19 years of experience, his earnings should increase to between $31,270 and $46,637. And finally, when he has been working for 20 or more years, a laboratory technician should be earning between $35,338 and $49,474.
Salary Based On Location
Salaries vary from place to place based on supply, demand and local costs of living. In the survey by PayScale, laboratory techs in San Antonio had the highest salaries, ranging from $30,500 to $46,583, while technicians in Atlanta had the lowest salaries, ranging from $25,000 to $41,258. Salaries in New York City ranged from $31,422 to $41,116. Boston salaries were similar, ranging from $31,550 to $45,316. Indianapolis had the widest range with lows similar to Atlanta at $25,434 and highs almost as high as Boston at $45,000.
Salary Based on Employer Type
Laboratory technicians work for a variety of employers including hospitals, companies, government agencies and colleges and universities. Companies paid the highest salaries, ranging from $31,859 to $45,825. Federal government salaries were slightly lower at $28,824 to $44,888. Hospital salaries ranged from $28,917 to $40,569. And college or university salaries ranged from $29,591 to $44,812.