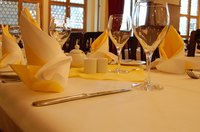 The service industry in the United States is one of the largest and food service is a trustworthy career for many Americans. Many start off in entry level positions at a restaurant chain but with persistence and some quality work and time, many food service employees become managers with rewarding careers and comfortable salaries. These positions and earnings can vary greatly depending on location, level of position, type of restaurant chain, and more.
Qualifications
While it is known that one does not need a college degree to become a manager at a chain restaurant, there are some requirements. A high school diploma or equivalent is typically a minimum educational expectation and many manager positions are also reserved for those who already have managerial experience. A person seeking a restaurant manager position for the first time will most likely have worked for a specific chain in a non-manager position for a while before being considered for promotion. More prestigious manager positions at high end chains, such as Steak and Ale, will require several years of managerial experience.
Location
As with all industries, the location of the restaurant may play a part in the salary base for managers. A more affluent area or a city with a higher cost of living may provide higher salaries. For example, the average salary for a restaurant manager in Phoenix is $73,000 while Charlotte boasts $84,000. Salaries must be competitive enough in the area to attract manager talent.
Type of Management Position
Management positions at chain restaurants can range from the assistant manager level to area manager and beyond. An assistant will make an average salary of about $40,000, and an area manager may average $77,567. The national average for a restaurant manager in the United States is $47,381.
Type of Restaurant Chain
Most likely the greatest influence on a chain restaurant manager's salary is the type of employer or restaurant. Fast food managers will almost always make less as there are many more managers to pay and the food items served are lower cost. For example, the average manager will make $30,189 to $42,347 at McDonald's, but will earn $41,155 to $47,695 at Applebee's. If you are a manager of a corporate hotel chain restaurant, casino restaurant, or cruise ship kitchen, you may be able to obtain a salary and benefits reaching $100,000 a year or more. The more responsibility you have due to specialty food, alcohol service and entertainment, the higher your income will be.