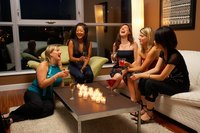 Entertaining friends and family is part of enjoying your home. This includes having them stay overnight or longer. In Pennsylvania, the law protects your right to have guests in your rental home or apartment, and your landlord cannot interfere with this right. If your landlord tries to impose unreasonable restrictions on your right to have guests, you can obtain a court order protecting your rights.
Be My Guest
When you rent an apartment in Pennsylvania, you generally have the right to the quiet enjoyment and use of your place. You also have the specific rights set forth in the Landlord Tenant Act of 1951, including the right to have "social guest, family or visitors" stay at your apartment for a reasonable period of time. This right is guaranteed by law regardless of whether you have a written or oral lease agreement. It is unlawful for a landlord to include a provision in a written lease waiving your right to have guests. The landlord is also prohibited from charging you extra fees for exercising your rights.
House Rules
As a condition of exercising your right to have guests, you must follow your duties as a tenant under the Landlord Tenant Act. These duties include your general obligation to obey all applicable laws. You also have the specific duty to make sure your guests do not willfully cause damage to your home or apartment or the common areas. You also must make sure your guests do not interfere with any other tenants' rights to enjoyment their homes.
What's Reasonable?
The Landlord Tenant Act does not specify define the term "reasonable time" for guests to stay at a tenant's dwelling; each situation is evaluated on an individual basis. From a landlord's perspective, a legitimate concern is that a guest staying at your apartment for an extended period of time could become an unauthorized full-time tenant. A guest staying overnight, for the weekend or even a week or two should not raise such a concern. However, if your guest stays with you a month or more, your landlord probably has good reason to inquire about your guest becoming a tenant.
Resolving Disputes
If your landlord imposes unreasonable restrictions on your right to have guests -- such as requiring written approval for all guests regardless of length of stay -- you are within your rights to decline to abide by the restriction. However, if a dispute about guests persists, you can also contact the Bureau of Consumer Protection at the Pennsylvania Attorney General's Office and file a complaint. Some local housing agencies, such as the Harrisburg Fair Housing Council, may be of assistance in resolving the dispute. In an extreme case, you may have to obtain a court order preventing your landlord from interfering with your right to have guests.