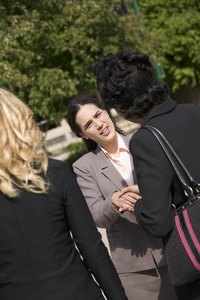 Verbal introductions are commonplace in business. They occur in a range of situations such as between a job candidate and prospective employer, associates who are collaborating on a project, or a newly appointed CEO and corporate sponsors. Introductions inform those who receive them, but they also promote relationships and obligations. For these reasons, do not approach introductions as merely situational – keep your long-term objectives in mind.
State Your Purpose
Every introduction has a reason. The best way to start yours is to add quick context. For example, "I would like to introduce you to someone who I think would have helpful ideas about your charity's fundraising efforts." Share pretext that is simple; take a tone that is light. While you might have a very vested interested in making the connection, neither party should be aware of your calculations or earnestness. Your goal is to create a comfortable, engaging atmosphere.
Identify Each Person
Continue your introduction by identifying each party. Order is important: always introduce an individual with a lower ranked position to a more senior person. Consider clients and elected officials to have higher status. When making introductions, share names and titles. For example: "Carolyn Bledsoe, may I introduce you to Sonia Woo, head of development at Bright Futures." Then follow: "Sonia, Carolyn is on the Board of Directors at Inspire New Hampshire." Smile and look in the direction of the person whose name you are saying in order to direct attention her way and be engaging.
Offer Additional Information
After briefly stating the purpose of your introduction and identifying the parties, share information about each person being introduced. Focus on your relationship with each individual – and include common interests and professional or school connections. Continuing: "Sonia designed Bright Future's most successful online giving campaign – and is one of the savviest development directors I've ever met." Further: "Carolyn and I previously served on the board at the Michaels Foundation; she hopes to bring fresh energy around fundraising in her new post at Bright Futures."
Share Possible Outcomes
Express what you hope will result from the introduction. For example: "I'm planning a luncheon at my house next week, and I hope you both will attend so we can continue this conversation." Other possibilities include, but are not limited to, exchanging contact information or meeting one-on-one. Finish with a positive expression such as: "I'm so delighted you two could finally meet." Ideally, the parties will benefit from your foresight and tact in choosing to keep the dialogue going.