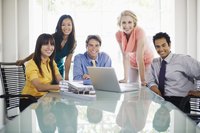 Many times, progress reports require a team approach. A diverse group may be responsible for implementing the project – or have shared accountability for its results. Before you move into actually writing, the key is to revisit the scope of work, then define who is responsible for collecting what information (and by when). The report, itself, should emphasize positive developments while offering honest information about setbacks and planned efforts to tackle them. Beyond these steps, it's important to create an atmosphere where team members openly communicate and are comfortable working towards a common goal.
Decide Who Should Be Involved
One of the first things to decide is who should be part of your team. You can figure this out by reviewing documents regarding your project's original milestones. Relevant staff persons might be listed in these records – or their responsibilities might be implied given the project's scope. In the case of a project to improve the quality of care delivered within a network of community health centers, primary team members include the company's director of quality improvement, medical directors at each of its 10 practices and the electronic medical records (EMR) systems analyst. Keep in mind that other parties might indirectly aid your report. In the example, if human subjects research is required, then the company's Institutional Review Board (IRB) might be involved.
Decide How Long It Will Take to Gather Evidence
Many processes have to come together successfully for a progress report. These reports also have certain frequencies like quarterly, semiannually or annually. Following the above case, each team member needs to gather evidence to demonstrate changes in health care quality. For the medical directors, that means coordinating brief surveys with their clinical and administrative staffs as well as conducting chart reviews. The EMR systems analyst works with the director of quality improvement to run a series of clinical reports. Develop a schedule for collecting evidence that takes all time factors into account along with reasonable delays.
Decide How the Report Will Be Organized
After the team has gathered evidence within designated times, decide how to frame the report. One or more meetings might take place for the team to share and synthesize findings. Focus on coming to a consensus about the project's overall successes and limitations. Ensure that the team agrees on specific steps that will be taken to resolve lingering challenges – and specify dates. Your report's executive summary should offer the most important details about progress and work that remains. In all, keep the report's audience in mind. Will it be for your business's board of directors or a federal grant funder? Certain readers might prefer technical information and statistical tables while others might be partial to general language and simple flowcharts.
Draft and Finalize the Report
Your last step is to draft and finalize the progress report. It's not advisable to have multiple team members writing the document. Not everyone's strength is writing plus even good writers have different styles. Choose the best and most appropriate writer within the group. In the case of a grant report, a staff person from the development department would likely be used. After the first version is written, team members should review the document and suggest edits. Additional revisions might be required, but no more than three are recommended in total. As you approach a final draft, enlist an outside "set of eyes" that can objectively assess the report – including spotting missing information or major inconsistencies. In addition to distributing the report to its formal audience, team members and key administrators should have copies for their files.