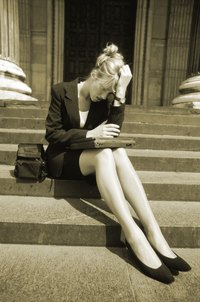 Employment-practices liability insurance protects against losses from wrongful discharge suits. Workers accuse employers of wrongful discharge when they believe they were illegally fired. General business policies often cover only companies and their directors and officers against legal action. But EPLI policies are written to cover all parties, including managers and employees.
Policies
Insurers generally write EPLI policies on a "claims-made" basis. This means that insurers pay claims that policyholders file while policies are in force, or when policy terms are extended. Events that prompt claims must occur on or after certain dates, usually when coverage begins. An event occurs when an employee files a lawsuit against his employer for being fired after, say, reporting a safety violation. But some insurers allow businesses to file claims retroactively by extending coverage or by agreeing to pay full coverage for events that occurred before a policy took effect.
Coverage
Most U.S. businesses are "at-will" employers. This classification allows them to fire workers for cause or no reason at all. However, state and federal laws protect workers from terminations based on discrimination or retaliation, the two most common reasons for wrongful discharge complaints. Title VII of the 1964 Civil Rights Act outlaws discriminatory firing on the basis of race, national origin, gender, age, disability, religion and genetic information. Some states protect workers from being terminated because of their sexual orientation or marital status. Firing employees for refusing to participate in unethical activities or for reporting workplace violations also is unlawful. EPLI typically covers charges of sexual harassment, libel and slander, contract breaches, mental distress, privacy invasion and benefits mismanagement. Most EPLI policies have deductibles.
Cost
Costs for EPLI coverage are based on a business's size, type and insurance risk. Insurers sometimes request companies' personnel files to determine premium rates, which are based on risk factors. A high number of wrongful discharge complaints could mean higher premium costs for a business. Policies offer as much as $1 million to $25 million of coverage.
Prevention
Although EPLI protects against losses from wrongful discharge complaints, businesses can take early preventive steps to lower their liability by reviewing workplace policies and procedures, and eliminating practices that tend to generate lawsuits. Businesses also can lower their liability by having employees sign releases, or agreements promising not to sue.