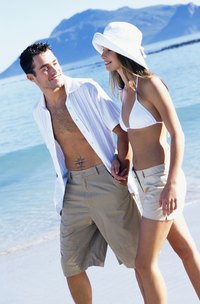 Cotton is a natural fabric that is more breathable than denim, less likely to wrinkle than linen and available in just about any style you can imagine. These days, cotton shorts come in a range of styles, from high-end designer to inexpensive sportswear. The many options make the cropped bottom a fashionable solution for both men and women during warmer months.
Long Shorts
A pair of long cargo shorts is one of the most functional and durable styles of cotton shorts, for either men or women. The casual cargo is not appropriate for most work environments, but a perfect choice for summer time activities. Cargo shorts look great with layers. Start with a tank, add a long sleeved tee and a light knit sweater. Peel off -- or add on -- layers as needed. Long chinos are also a good option for either gender and simple to dress up. This classic style, most often found in neutral colors such as navy or tan, has timeless detailing like side pockets and belt loops. Accessorize with a blazer, a belt and a short sleeved button down dress shirt, and you're suited up for either the office or the outdoors. Keep in mind, long shorts are best suited on long body types. If you're height is considered average or short, it's better to stay with the short or medium length styles of shorts.
Short Shorts
They're called hot pants for a reason! Dressy cotton short-shorts styles, such as cuffed chinos, are primarily reserved for women and are highly fashionable. Put on a pair of lightweight cotton shorts with scalloped edges, small pleats and side zipper, a pair of platform wedge sandals and a floral blouse, and you've created a completely on-trend outfit for summer.

Everything In Between
Bermudas are a versatile, medium-length unisex style of cotton shorts. This style of shorts look great with prints, in all-cotton seersucker fabric or solid colors. Bermudas are easy to dress up by adding a thin leather belt, cotton button down shirt and Oxford shoes. For women, boyfriend-cut khaki shorts are another casual, medium-length cotton shorts style. These shorts work well with a v-neck tee and boat shoes or strappy sandals.
Athletic Wear
It's hard to beat cotton when it comes to gym wear. The elastic waistband and breathable fabric most cotton gym shorts are made from make them a perfect choice for working out. Be sure to check the thickness of the cotton before you buy. Put your hand inside the fabric and stretch it to see how much skin will show through once you start bending over in yoga class or at the gym.
Caring For Cotton
Unless you buy preshrunk cotton, 100 percent cotton shorts are going to shrink when you wash them. You can limit the amount of shrinking by either washing your shorts in cold water or hand washing and air drying. If you're known to be careless when it comes to laundry, buy cotton shorts one size bigger to be sure they'll fit after they are washed. To keep the color and shape of your cotton shorts, wash them less frequently and use a steamer to remove wrinkles.