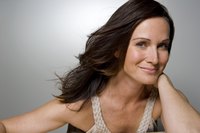 Thermage and Profractional are two advanced medical techniques for facial renewal. Both anti-aging procedures offer results by causing damage below skin that the body naturally repairs. While both techniques result in rejuvenation, differences exist in recovery and visible outcomes.
Medical Noninvasive Anti-Aging Treatments
Both technologies, Profractional's laser light and Thermage's radio frequency waves, cause heat-induced skin damage, which triggers the body's repair response -- rebuilding collagen below skin's surface. However, the instruments used are different.
Profractional laser treats thousands of pinpoint areas at once. It uses a laser light surface tool directed at specific points that causes the body's collagen to build up and heal where the light has damaged, leaving skin between the treated areas intact. It also removes damaged tissue at the same time. It can be targeted to small areas selectively and at different intensities.
Thermage is applied with a radiofrequency generator surface tool that heats up an area and then cools it to prevent excess damage. The body repairs itself by forming collagen gradually.

How They Work
Profractional does deep resurfacing or shallow resurfacing. Shallow resurfacing with shorter laser light penetration begins to heal in about 48 to 72 hours. Patients can return to their regular activities in two days, or up to five days for deeper treatments. By use of controlled damage, it removes and repairs damage at once with tiny micro holes that penetrate the skin's surface and promote a natural healing process. Each session takes from 15 to 30 minutes, and four sessions are required, costing from $300 to $1,000 each, at the time of publication.
With its RF-generated heat, Thermage does not break the surface of the skin like Profractional laser does with laser light pin holes. The heat from the Thermage instrument penetrates below the skin's surface, which creates an immediate firming of the skin. A complete treatment can be performed in one session lasting from 20 minutes to two hours, and it typically requires no downtime from normal activities. Cost is $1,000 to $5,000, at the time of publication.
Side Effects
Both procedures have varying side effects of swelling, redness and discoloration, or bruising. Profractional side effects can last two weeks; in addition, skin is more sensitive to the elements and UV rays. Thermage side effects usually lessen within a few hours, though they may last several weeks in extreme cases.
Skin Rejuvenation Results Vary
Both Profractional and Thermage can reduce wrinkles and smooth the skin. In addition, the Profractional treatment can reduce or eliminate damaged tissue such as scars and damage from sun exposure; positive changes in the skin can be noticed in a few weeks. With Thermage, collagen rebuilds itself gradually over several months; it is best for patients interested in subtle changes. Effects generally last for a few years with both procedures.