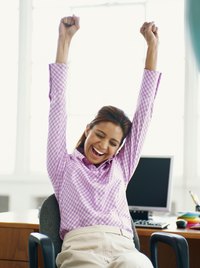 That alarm goes off, and it's difficult just making coffee, let alone putting together a chic and comfortable outfit for the next eight or nine hours. While this can seem daunting, be assured it's well worth the effort. After all, employees are rarely promoted if they don't look the part for the position to which they aspire. Taking extra steps to avoid giving into jeans and sneakers in the workplace are sure to pay off.
Polishing
Those old jeans are undeniably comfortable, but there's a time and a place for the old blues, and the workplace generally isn't it. Whether it's a big corporate tower, a small family-run office or even a retail store, looking too casual sends the wrong message to both colleagues and customers. Tailored black pants, blouses out of superior materials, like silk and rayon blends, and a blazer or two will go a long way in promoting a career.

Skirts and Dresses
If it's comfort you have in mind, there are more options than a ratty old pair of jeans. Few women can argue against a skirt or dress for all-day comfort. Flowing and loose, or tailored and form-fitting, dresses and skirts feel great all day and can provide an exceptionally polished aesthetic. Add a light jacket, cardigan or blazer and jewelry to finish the look and get ready for that corner office.

Denim Done Right
Many offices offer more casual dress codes and support dress-down Fridays. With this liberty, it's easy to fall into sloppy habits. Keep it polished when outfitting denim. Select exceptional tops for slim, dark, tailored denim, free of distressing or holes. A blouse with a belt is a perfect choice and, suffice it to say, leaps and bounds beyond jeans and sneakers. Jackets and sweaters also pair well with clean, flattering denim. And don't forget a little jewelry.

Best Foot Forward
Take those old, smelly sneakers and reserve them for the weekend. Regardless of the company's dress code, sneakers are almost never appropriate in the work environment. Before becoming too depressed, there's a new best friend waiting for every woman's foot, and that is the ballet flat. Just as comfortable as sneakers, but loads more stylish, flats can be worn anywhere with anything. For more style, seek out polished pumps or fetching wedges.