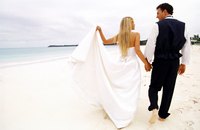 Attending a wedding on a Caribbean island should be a time to celebrate your loved one's big day in paradise. Before you start packing, you should plan your outfit carefully so you don't ruin this special day with a fashion faux pas. There are certain considerations you should keep in mind when planning your ensemble. It helps to understand both island fashion and the wedding's style, then you can put together the perfect outfit to enjoy the nuptials and surroundings in classy panache.
Know Island Style
Although you may imagine flip-flops and madras when you think of island attire, there is no shortage of fashion and style on the Caribbean islands. In fact, the work of several native fashion designers is showcased each year during Caribbean Fashion Week. (1) Style on the islands is generally designed to keep you cool in the tropical climate, and is dominated by summer fabrics like cotton, linen and silk blends. Color palettes often include bright whites, vibrant colors and organic patterns reminiscent of the island scenery. (2) Footwear styles are also suited to the warm weather. You can expect to see people wearing sandals in nearly every style imaginable.
Get the Wedding Details
The most important questions you must answer before you decide what to wear are: Will the wedding be formal or casual? Will it occur during the day or at night? Although you may envision an island wedding as a casual affair, Caribbean weddings are held in a wide array of settings and can range from a relaxed wedding on the beach to a formal affair in a five-star resort. (3) Wedding styles differ slightly from day to night, but you won't have to worry about dressing for a change in temperature. Caribbean evening temps generally vary slightly and are about 5 to 15 degrees cooler than daytime. (4)
A Casual Wedding
When it comes to weddings, the word "casual" can be deceiving. Unless the bride and groom state otherwise, a casual wedding calls for an outfit that is still dressy but less formal. A flowing maxi dress featuring a summery, floral print paired with low dressy sandals is perfect for a daytime wedding on the beach. A classic sheath dress in jewel tones paired with peep-toe pumps is well suited to an evening poolside wedding. (5) Although it's fine to show a little skin, you should steer clear of styles that are overly casual or too revealing.
A Formal Wedding
If you have been invited to a formal wedding, this is your chance to go all out with a spectacular outfit. Proper attire for a formal daytime Caribbean wedding could include a crisp, pale linen suit with a bright silk blouse and matching strappy heels. You will be sure to stand out at a formal evening island wedding wearing a long, flowing chiffon cocktail gown in a flattering shade of coral, paired with shimmering gold high-heeled sandals. (6) Remember, when it comes to weddings, it is always better to be overdressed than under-dressed. (5) If you match the island style and dress appropriate to the wedding you are attending, you will be set to enjoy the event of a lifetime.