The serratus anterior is the large muscle that begins as the meat between the first nine ribs, sandwiches between the ribs and the shoulder blade, and ends connected to the entire edge of the shoulder blade nearest the spine. Tightness of the serratus anterior with the need to stretch can be caused by muscle fatigue, point tenderness like a charlie horse or cramping due to poor posture and breathing. The proper stretches will alleviate a tight serratus anterior. Hold each stretch for up to 30 seconds and repeat as needed.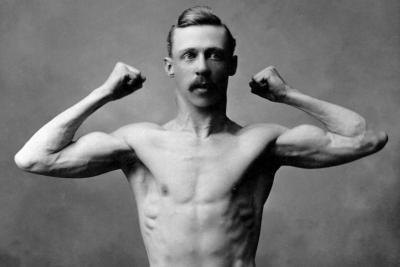 (Thinkstock/Comstock/Getty Images)
The simplest stretch for a tight serratus anterior is to extend the arms overhead. Start by standing tall with both arms down at your sides. Begin raising your arms out to your sides and then overhead. As the arms pass shoulder height, rotate your hands so the palms touch directly over your head with your arms fully extended.
To take the overhead stretch deeper, add a side bend to either side. With your arms fully extended overhead and palms touching, lean your arms to the right while moving your hips to the left. This will open up the left serratus anterior. Hold the stretch then come back to center as you move to stretch the other side. To open up the right serratus anterior, lean your arms to the left while moving your hips to the right.
Stretch the serratus anterior quickly before and during exercise with the dynamic windmill. Standing with the knees unlocked, lean your upper body forward from the hips, keeping the back straight. Rotate your torso from right to left, letting the momentum move your arms like a golfer taking practice swings. This will prevent tightness of the serratus anterior.
Another way to stretch the serratus anterior is the extension phase of the lying pullover, a resistance exercise for this muscle. Select a light dumbbell and grasp it with both hands. Lie flat on a bench with your arms extended over your chest. Go into the stretch by moving your arms over and beyond your head. Hold the stretch, allowing the force of gravity working on the light weight to help your body relax into the stretch.
Foam rolling can be an effective modality for realigning the muscle fiber and restoring the space between the ribs. Place a stiff foam roller on the floor, lie on your right side with your ribs just below the axillary over the foam roller. Extend the right arm beyond your head with the palm facing upward. Slowly roll the foam into the space between each rib, working your way down your side. Repeat on the left side.
Kinesiology The Mechanics & Pathomechanics of Human Movement; Carol A. Oatis, PT, Ph.D.
Promoted By Zergnet