Jumping rope is an integral part of most boxers' training. Boxing greats Mike Tyson, Floyd Mayweather, Tommy Hearns and Manny Pacquiao are all ardent jump rope advocates, according to Gary Todd, author of "Greatest Ever Boxing Workouts." Jumping rope has been popular with boxers for a long time and for good reason; it offers many benefits that are specific to both amateur and professional fighters.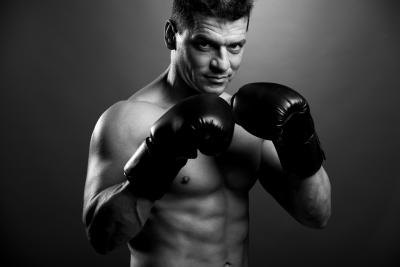 (Jupiterimages/Photos.com/Getty Images)
It's all well and good being able to throw a good punch, but it's equally important to use your feet to keep yourself out of your opponent's reach. Jumping rope teaches you to stay on your toes and be light on your feet. This means you are much better able to move around your opponent and hopefully gain a positional advantage, both offensively and defensively. Boxers are often described as being "caught flatfooted," which simply means they were not on their toes and therefore unable to move away from a pressing opponent.
Boxers often perform roadwork to increase their cardiovascular fitness. Roadwork is simply jogging or running in boxing terms. In addition to roadwork, boxers jump rope to improve their fitness. Unlike roadwork, jump rope workouts are normally performed in a start/stop style called interval training. Interval training closely replicates the demands of a boxing match. Jump rope also provides an indoor workout for when running outdoors may not be possible.
Jumping rope is an effective calorie burner. With the exception of heavyweights, all boxers must be a specific weight to fight. For example, a middleweight must weigh no more than 160 pounds. Jump rope, when combined with a good diet and other forms of physical activity, can help a boxer maintain the right fighting weight.
Boxers are weighed before a bout and if they are overweight, they will try to sweat off the excess pounds, often by jumping rope while wearing a plastic sweat or sauna suit. This weight loss comes from temporary dehydration and will quickly be regained after the weigh-in when the boxer drinks water and rehydrates.
Boxing training is very strenuous and can be hard on your muscles and joints. Hitting the heavy bag, sparring and performing calisthenics can all result in injury, especially if your body is cold. Boxers jump rope before training to warm up and prepare their bodies for the strenuous activities to follow. Jumping rope emulates many of the demands of boxing such as footwork and speed and is a more appropriate warm-up than riding an exercise bike or jogging.
Greatest Ever Boxing Workouts; Gary Todd
Boxing Fitness; Clinton McKenzie and Hilary Lissenden
Jump Rope Training; Buddy Lee
Boxing Fitness: A Guide to Get Fighting Fit; Ian Oliver
Promoted By Zergnet