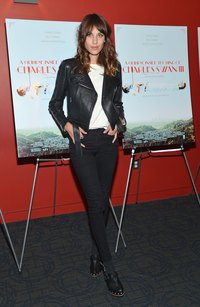 They're heavy, they're chunky and they lend an unmistakable European vibe to your look no matter what you're wearing. However, when it comes to such showstopping shoes, pulling them off successfully depends on choosing the right bottoms to complement your footwear. While dresses and shorts create instant balance, when it's not quite time for warm weather duds, wearing the right pants with your clogs makes for a chic, personalized look.
Skinnies
If you're a little less into retro styling and find yourself more attracted to a heritage, Americana or slightly preppy look, a pair of skinnies works well to put your clogs at the forefront of your look. Keep your ensemble simple, though, since you're making a statement with chunky footwear. Medium blue denim skinny jeans, a white T-shirt and a light blue jean jacket finished off with a pair of black or brown distressed slip-on clogs is clean and chic. Skinnies work particularly well for hourglass figures by showing off the natural curves.
Flares
When retro-inspired styling with a nod to the disco-chic '70s is right up your alley, a pair of flares is just the selection to pair with your clogs. The wide bottom of a pair of trousers or jeans falls effortlessly over these shoes. Onlookers will be able to catch a glimpse of them but your look will benefit more from the height and chic chunky heels peeking out from beneath your hemline. You can get away with or without socks with a pair of flares. On top, wear a fitted sweater or thermal for a touch of sex appeal and to keep your look in proportion.
Cropped
Cropped pants work particularly well with a pair of clogs, whether backless or slingbacks. The exposed skin between the top of your clogs and the hemline of your pants allows you to slim the line of your ankles if creating a boxy appearance is a concern. When wearing cropped pants with chunky clogs, look for bottoms with a higher rise at the waistline to give the illusion of longer, rather than shorter, legs. However, if you have an apple-shaped figure, wear cropped pants with a lower rise to avoid enhancing your midsection. Finish this springy, casual look off with an embroidered blouse or tucked-in button-up shirt.
Straight Leg
Wearing super skinny jeans means you have to play close attention to proportions and you might end up feeling like you've got really big feet and tiny legs. However, flares completely conceal your shoes. If you're looking to show off your clogs while maintaining a super balanced look from the waist down, a pair of straight leg pants works wonders and flatters all body types. Visualize a feminine sleeveless blouse over deep blue straight-leg jeans and a pair of dark clogs. Go for a hemline that exposes a bit of skin and the bottom of your heel for a clean appearance instead of a messy one.