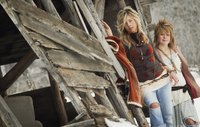 While slinky, satin robes and 4-inch nude heels are held as feminine ideals, that's only one arm of the fashion world. Rugged, startling pieces have been staples of many designer's and women's style traditions over the last five decades. Keep the rugged glamour alive from eye-catching camping and mountain garb to tough, urban-punk and biker looks.
Camping Glam
Pair a warm and colorful thermal top with a quilted, down vest in a deep blue or olive green. A pair of jeans and some black lace-up boots combine all the comfort you need at the campsite with a fashionable edge. Look for vests or down jackets that have a colorful lining, decorative hoods or creative stitching. Add a vibrant wool scarf, fingerless wool gloves or a chunky knit beret for added warm layers.
Punk Rock Rules
Punk style always has a subtle edge. Structured boots, black skinny jeans and pops of bright pinks, reds and oranges all signal a hint of the punk style. Pair a striped or geometric-designed blouse or graphic tee with a pair of dark-denim skinny jeans. Layer with items like a leather-and-denim vest or yellow-and-black checkered jacket. Finish with black leather fingerless gloves. Always look for shoes and accessories with a bit of flair -- think a pair of black fringed boots, spiked metal jewelry or a studded leather bag.
Biker Babe
Not everyone is made for the open road but you can bring some of that style into your wardrobe. One of the most lasting wardrobe purchases you can make is a quality leather jacket. Opt for the standard black or change it up with a bright coral, pink or brown color. Many biker-style leather jackets have extra zippers and some impressive stitch work. Accessorize this rugged look with a pair of leather boots with extra zipper accents and some dark denim jeans. Don't be afraid to wear a tough leather jacket over a nice blouse or a dress for an added touch of drama.
Mountain Runway
Plaid is powerful -- enough said. A rugged mountain girl can pair a subtle plaid dress with a brown suede jacket, some buttery leather boots and a pair of flannel leggings for a warm but whimsical mountain look. Alternatively, a tailored flannel top in a bright plaid design, dark-blue bootcut denim jeans and a faux sheep-skin jacket says edgy and cozy all at the same time. For an on-the-town mountain look, search for boots with a bit of a heel and add a chunky necklace to that whimsical sense of cabin life.