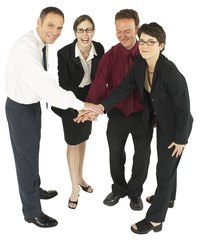 While having people from different cultures work together presents challenges, there are many advantages to multicultural work groups. Multicultural work groups are teams that consistent of employees with distinct cultural differences stemming from such personal traits as age, race, ethnic origin, religion, gender, social class and educational level.
Effective Working Relationships
Despite the challenges in overcoming cultural differences in language and communication, team members often develop strong bonds within diverse work groups if the work culture provides opportunity and motivation for employees to learn about each other's cultural uniqueness. When employees celebrate their differences and view diverse work teams as an opportunity to learn, they often value those work relationships more than they might in a more homogeneous team.
Better Ideas
Homogeneous work groups often suffer from groupthink: acceptance of simple, conventional ideas for the sake of efficiency. More diverse work groups benefit from a broader range of perspectives and a better selection of ideas to discuss when working through tasks or resolving problems. As long as the employees work in a culture of tolerance and have effective working relationships, this broader range of ideas ultimately contributes to a better final solution.
Service Coverage
A work group with representation from a wide range of cultures and backgrounds has a better ability to interact with and service diverse customer markets. Employees with multilingual skills, for instance, are better equipped to serve customers that speak multiple languages. Customers generally prefer to work with a business representative of their community. Identifying with employees from a cultural perspective more likely leads to customer loyalty and better relationships.
Employee Development
Diverse work groups also benefit skill development within an organization. Employees that take advantage of learning opportunities in a diverse work group can better their individual ability to work with others and better serve a diverse customer base. By becoming more aware of different cultures, employees make themselves more valuable to the work group and the organization because they can more aptly serve more types of customers.