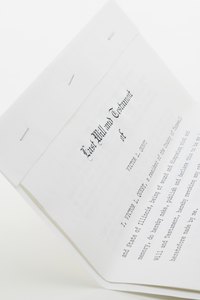 A will is a plan for how you want your possessions and wealth distributed when you die. When you set up your will, you choose an executor who is charged with ensuring your wishes are carried out correctly. You can choose a family member, friend or lawyer to be your executor. The beneficiary of your will is someone who receives something from you. A beneficiary may or may not be related to you.
Executor Dies Before You Do
If your executor dies before you do, you can change the executor of your will without substantially changing any other information. Some people choose a lawyer or a law firm with the understanding that someone at the firm will oversee it, so they do not need to worry about finding a new executor if the original one passes away. It is not difficult to change the executor of a will, but you should ask whomever you choose if he is willing to serve as executor before you assign him the responsibility.
Executor Dies and You Don't Have Time to Change the Will
If your executor passes away and you do not have the opportunity to change the information, a family member or friend can take the will to probate court and request to be the executor of your estate and will. This adds an extra step in the probate process, but most wills need to go through probate to make processing the will easier. Probate can help with the transfer of titles, and the estate must pay all outstanding debts before any beneficiaries can receive any money.
Beneficiaries Die Before You Do
If a beneficiary dies before you do, you can change the will so that another named beneficiary will receive the money. Another option is to leave the item to your beneficiary's heirs in the will. This works if you are leaving money to family members. If you are leaving specific items to people, you may want to list a second beneficiary if the original one passes away. It is not difficult to plan this when you write your original will. People change wills as circumstances and relationships change, and you can change your will if a beneficiary passes away before you do.
Beneficiaries Die and You Do Not Have Time to Change the Will
If your beneficiary passes away at the same time as you do or you do not have a chance to change the will, the will go to probate and the money will go to your heir as determined through the law. Generally this is your nearest living relative. If you want the money to go to someone else, be sure to clarify that in your original will, and list several alternatives if your beneficiary dies.