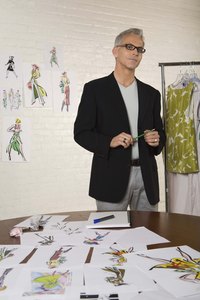 Working as a fashion designer is about more than tailoring clothes to fit models and making trips to New York, Paris and Milan. Fashion designers are individuals who have creative personalities and the ability to translate ideas into wearable creations. The fashion industry is competitive, according the U.S. Bureau of Labor Statistics, and only the most experienced designers advance.
Creativity
If you want to become a fashion designer, creativity is a skill you must possess. A fashion designer must be able to creatively translate his understanding of art and design principles onto paper as drawings. He must know how to coordinate materials of different colors and textures in a way that is fashion forward and appeals to the target customer. But first, he must be able to show his creativity with a professional portfolio that showcases his best work and lands him a job.
Thick Skin
Because it is difficult to please everyone, a fashion designer must have or develop a personality that can accept all criticism with grace. Instead of taking negative feedback personally, a fashion designer must see it as constructive criticism and a learning experience that will help him improve upon his designs.
Technical Skills
One of the best ways to learn about the technical skills needed in the fashion industry is to graduate with a 2- or 4-year degree from a school accredited by the National Association of Schools of Art and Design. The course of study offered at an accredited post-secondary institution will teach you how to draw, use different materials, develop your own style as a fashion designer and make patterns. You will learn how to cut and sew fabric and other materials properly, match colors well and pay attention to the artistic qualities of your design. In addition to drawing sketches by hand, you may also learn how to create computer-aided design software so you can make virtual renderings.
Business Know-How
To promote yourself as a fashion designer, you must outshine the competition and see your design concepts come to fruition. You also must be business-minded. If you work for a company, you must use professionalism and a business sense when dealing with different levels of management, as part of a team or when working with clients. Business know-how is particularly important if you wish to start your own fashion line or business because will will need to effectively manage your enterprise from the initial idea phase to seeing your product through to market.