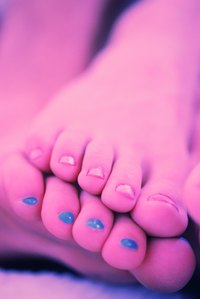 You can breathe new life into shades you're bored with by blending them together -- almost everyone has a few bottles of nail enamel waiting to be used up. Mixing your own custom shades of nail varnish is also a great way to match that new nail color that's all the rage on the catwalk, but hasn't made it to the shops yet.
Mixing Materials
Pour a few drops of varnish in two or more colors onto an unwanted glass or china plate and blend them with a wooden toothpick. You can also use a piece of waxed paper as your mixing palette. Don't try to mix your nail colors in a plastic container; this includes plastic foams. The nail varnish will eat through the plastic and may damage the surface underneath. Mixing colors in a bottle can be tricky, as the necks are very narrow. You can introduce a second color a drop at a time using the end of a toothpick. If you apply the mixed color with the brush from a bottle of nail color, clean the color off the brush before and afterwards.
Color Mixing
You can discover new shades by experimentation but it's a little easier to use an artist's color wheel. This is a diagram showing you how different shades are produced through color mixing. To make a purple varnish, for example, you can mix a pure blue with a cherry red. You can lighten colors by adding white or pastels and darken them by adding black or dark brown. Always add the darker color to the lighter one, mixing in a drop at a time.
Sheers
You can make sheer or jelly colors by mixing solid-colored varnish with clear varnishes. Mix a pink, beige or brown with clear varnish to make delicate, natural shades that you can apply over bare nails for a nude look. You can also apply sheer colors over solid colors to make a new shade. For example, transparent orange over pink will give a peachy effect.
Neutrals
Neutral shades like beige, brown, taupe or gray can look elegant. Create browns by mixing opposite colors from the color wheel -- red with green, yellow with purple or blue with orange. You can also make a warm brown by mixing orange with a little black. For pale tones like beige or gray, use white as your base color and add small drops of brown or black. Add a touch of blue for a cool gray or pink for a warmer shade.
Pearls
Pearl shades are made by adding tiny specks of reflective material to a varnish. You can turn a creme shade into a pearl one by mixing in a few drops of a white pearl color. The white pearl shade will lighten the base color, but not significantly. Add a lot of pearl for a strong shimmer or a little for an understated satin effect.
Glitters
Glitter shades have large flecks of foil-coated plastic suspended in the varnish. You can mix sheer glitter colors with creme polishes to add a touch of sparkle. Try blending a few drops of a silver glitter varnish with royal blue for a night-sky effect; or mix gold glitter with deep red for an opulent look.