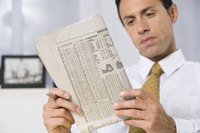 The goal of a hedge fund manager is to deliver consistent returns no matter what state the market is in. Many managers achieve this by hedging against potential market downturns. Managing a hedge fund requires diligence and discipline. The returns can be great but managers invest a great deal of time and expertise to achieve significant gains. In order to sell or manage a hedge fund, you may need a license in addition to experience and knowledge.
Registering as an Investment Adviser
Investors in hedge funds typically tend to be banks, financial institutions, wealthy individuals or insurance companies. These types of clients do not normally seek financial advice from a hedge fund manager. Many hedge fund managers do not advise their clients on investments, however, depending on the regulations of their state they may have to acquire a Series 65 license. A Series 65 license registers an individual as an investment adviser. Certain states require this license for anyone operating an investment advisement business in their state. This would include hedge funds since the manager will be making trades and doing stock analysis on the behalf of investors. The U.S. Securities and Exchange Commission (SEC) does not require a Series 65 license for anyone, not advertising themselves as an investment adviser, with less than 15 clients within a 12- month period. It is best to check your state laws regarding Series 65 licensing.
Fund Investment Vehicles
A Series 3 license gives the bearer registration into the National Futures Association. Registration is needed for anyone trading futures or commodities. If you are registering as a company then at least one member of your organization must complete the exam. Since hedge funds use a wide variety of investment options, including futures and commodity training, obtaining a Series 3 license is most likely a necessity for a hedge fund manager.
Series 7 License
A Series 7 license allows brokers to purchase securities and make trades on the behalf of investors. This license is a requirement for individuals working in brokerage houses or managing mutual fund accounts. Hedge funds fall under different SEC regulations and therefore a Series 7 license is not needed to manage a hedge fund account. Hedge funds typically consist of securities that do not require SEC registration so the neither the fund nor the seller falls under the obligations of a Series 7 license.
Other Considerations
While many individuals have jumped into the hedge fund market over time, not all have been successful. Obtaining proper licenses is a small part of selling hedge funds. Experience, knowledge and even luck are the assets needed in the world of hedge funds. Long hours of stock analysis and building forecast models await the future hedge fund manager. Currently hedge funds are attractive because they are not as regulated as mutual funds and other securities. This may change in the future. Another potential change is how hedge fund manager gains are reported. Currently hedge fund managers report capital gains but according to a recent article in "The New York Times," there is some pressure in Congress to treat these gains as income, which carry a higher tax rate.