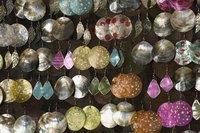 According to The Free Dictionary, fashion jewelry, or costume jewelry, is stylish accessories made from inexpensive materials. Imported costume jewelry can provide a wide variety of intricate designs and colors for your customers to enjoy at a lower price than authentic gemstones. To obtain your jewelry for sale, you may have to pay legal fees, transportation costs and import taxes, and file government forms for border control inspections.
Licensing and Tariff Fees
Check your state government website to determine if you need a seller's permit to sell your jewelry. According to the U.S. Customs and Border Control website, no federal licensing is required for selling imported jewelry or for importing the jewelry you intend to sell. For any item you ship to the U.S., you must pay an import duty, or import tax. According to Informed Trade, the average duty fee is 3 to 5 percent of the good's value. USA.gov recommends checking the U.S. Customs and Border Patrol website for more precise rates or contacting the CBP port of entry from which your jewelry will arrive.
Finding a Supplier
Search for a supplier that will provide the items you want for a price that allows you to remain competitive. You can search for jewelry suppliers from specific exporting countries or for global suppliers of a particular stone or fashion style. Although informal databases of international jewelry suppliers exist online, there are more secure methods of finding a supplier. The Federation of International Trade Associations provides a list of its members as well as a directory of wholesale traders for a variety of goods, including jewelry. The Fashion Jewelry and Accessories Trade Association is a nonprofit organization that provides information on the safety of potentially harmful metals used in some fashion jewelry to be aware of when making an inventory selection, a legal unit to advocate more safe fashion jewelry, and free consultation for members needing legal and business advice in the fashion jewelry industry.
Calculate Transport Costs
Transportation costs vary depending on the method of transportation, the point of origin, and your proximity to the nearest port of entry. Free shipping may be available on some e-commerce sites where international suppliers sell bulk jewelry. If free shipping is not available, contact a representative for the website and your potential supplier to determine who is responsible for transport fees. Sometimes the supplier offers to pay for shipment of bulk items. Transport fees vary based on distance, tariffs, and inspection fees. Once you have worked with your supplier to determine responsibility, you can calculate a final price and weigh the financial pros and cons of choosing this supplier or this country of origin.
Before You Commit
To ensure the quality of your imports, order a few sample jewelry items if you have not ordered from this particular supplier before. Ask your supplier who is in charge of insuring the goods in case of damage during shipment. Research the International Commercial Terms, or Incoterms, which are regulations set forth by the International Chamber of Commerce, to help guide you in making informed decisions regarding situations that may arise during the movement of products. Incoterms also provide the global trade documentation requirements; this documentation clarifies things such as which party should be responsible for trade documents. Informed Trade recommends discussing these Incoterms and international guidelines with your supplier for a smoother transaction.