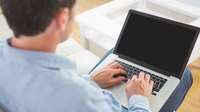 Although Google dominates the Internet search industry, Microsoft's Bing is also a big player. If you're committed to giving your business an online presence, listing it on Bing Places for Business can help and it takes only a few minutes. The process is streamlined and requires little expertise, so even without a formal website your business can enjoy the benefits of an online presence.
Simple Setup
Unless your business is brand new, it probably already comes up in Bing searches and has its own listing on Bing Local. To take active control of that listing you'll need to log in using your Microsoft account or create a new one. Once you click the "Get Started" button on the Bing Places page, you'll be asked to enter the name and geographic location of your business. From there you can create a new listing or flesh out the old one with details of your products and services. You can add photos and videos for added impact, as well as your company's logos, branding and advertising taglines.
Take Advantage
Despite Bing's lower profile in the web-search industry, Bing Local offers a few specific advantages. If your marketing strategy leans heavily on social media, you can link to your Facebook page, Twitter feed and other social media sources. Bing is also the default search on iPhones and iPads, beginning with iOS 7 in 2013. That's especially valuable if you're located in an Apple-centric urban area or if affluent Apple owners coincide with your target demographic.