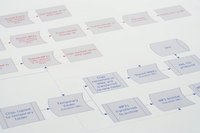 A process flow diagram is a visual representation of an algorithm, or a step-by-step set of instructions designed to solve a problem. These diagrams are used for all sorts of purposes, from software design to project management. In fact, the process of creating a flow chart could be written as a flow chart itself. There are many elements that could potentially go into a flow chart, depending on its application, but in every case, the basic elements of a flow chart are the same.
Things You'll Need
Draw an elongated circle, or rectangle with rounded edges, toward the top of your paper. Write "Start" within this shape.
Draw a regular rectangle somewhere below the Start shape, and write down the first step that happens in the process.
Draw a line from the Start shape to the first rectangle. Add a small arrow head to the rectangle end of the line to indicate which direction the line goes.
Draw a diamond to represent a decision that alters the flow of the process. Connect the diamond to the rectangle with a line indicating the direction of flow.
Draw a shape similar to the Start shape that represents the end of the process, and write "End" within that shape.