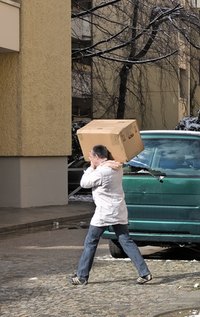 Anyone sending a package hopes it arrives promptly and in good condition. This is especially important if the package is oversized and headed to an overseas destination. The United States Postal Service (USPS) and United Parcel Service (UPS) offer some simple suggestions to help provide these very assurances to senders of large parcels overseas.
Things You'll Need
1 size-appropriate box
Packing tape
Label(s)
Obtain an appropriate shipping container. Use new or sturdy corrugated boxes, advises UPS. Boxes worn from prior use may not survive overseas shipping. If reusing a box is your only option, ensure it is sturdy, in good condition and has all flaps, so you can close it securely. Depending upon its weight, you may wish to choose a double-wall box strength.
Add some type of packing material to protect the contents. Good choices include loose polystyrene "peanuts," air bags, molded styrofoam enclosures, foam-in-bag, foam-in-place, bubble wrap, crumpled kraft paper or corrugated liners, according to UPS. For very fragile items, especially heading overseas, a second, outer box is also a good idea for extra protection.
Secure the box. UPS suggests using either nylon-reinforced filament tape or pressure-sensitive plastic tape. For best results, use three strips of tape (one for the middle seam, one for the right flap, and one for the left) to seal both the top and bottom.
Label your package appropriately. UPS advises including the recipient's entire street address, zip code and (for international destinations) the name and phone number of a contact person. Use a single address label per parcel. This should always go on top. If you are reusing a box, be sure you cross out any prior address markings to avoid confusion. Do not cover a seam with a label, as the label may tear if the package comes open. Always clearly print your complete return address and zip code. It is a good idea to include a packing slip with destination and return address (and contact name and phone number for international deliveries) on the inside of the package, in case the information on the outside becomes illegible.
Check shipping methods and rates to be sure you get the best deal for your oversized international shipment. Note that the United States Postal Service has maximum dimension limits for international parcels. These vary by country. Call the post office for further details. UPS can send almost all parcels, regardless of size.