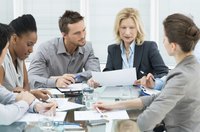 The right mix of planning, monitoring and effective management is crucial for completing a project on time, on budget and with high quality. Incorporating work breakdown structures and project network diagram into a project plan is a good starting point as these tools identify tasks and activities and describe the order in which they should happen. On-time delivery is all about proactive, not reactive, project management.
Progress Measurements
Define the project's duration, required resources and specific tasks with work breakdown structures. They use a top-down approach that starts by identifying project deliverables. Next, break each deliverable down into required tasks. As a final step, break each task into the steps and the time required to complete it. Analyze and arrange tasks in a project schedule diagram in the order in which each must occur. Use a flowchart format that includes numbers to identify task order and arrows to denote the flow of tasks within the diagram. Make sure to include estimated start and finish times for each activity.
Identify Milestones
Identify significant points in the execution phase. These project milestones include deliverables, dates, deadlines and other important events. Get information on outputs and deadlines from the project schedule diagram and add the dates for team meetings and progress meetings with stakeholders. You can also include key externals, such as resource delivery dates, due dates for outsourced tasks and any information that can help determine whether things are on schedule.
Gantt Chart
A Gantt chart displays tasks, shows which activities in the project overlap and by how much, and identifies project milestones in a bar-chart format. Create one using project management software to better track your project. The program you use will provide specific directions on how to construct the chart. A completed Gantt chart displays each task and milestone on the left side. The right side displays a bar whose position and length represents the start, duration and end date.
Monitoring Progress
Work-breakdown structures, project diagrams, milestones and Gantt charts won't help you measure progress without regular monitoring. Weekly status meetings are vital for identifying weaknesses and spotting potential bottlenecks early enough to make proactive corrections. Conduct a thorough status review in which you talk about task assignments due during the current week and within the next two weeks. Allow team leaders to identify which tasks are on track and which, if any, may miss the projected deadline. Check off completed tasks and update the progress chart as the project moves forward.