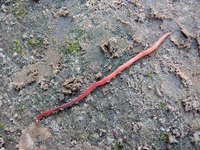 As people grow more conscious of global warming and the need for earth-friendly practices, the market for earthworms has expanded tremendously. No longer do earthworm farmers depend solely the fishing community to support their business. Generating profits from your earthworm farm is largely dependent on selecting the right customers -- in the fishing and composting industries -- and promoting your business to them. Selling worm products in addition to the worms and inducing people to go "green" with your worms is the key to a successful earthworm farming business.
Determine the customers to whom you will sell your earthworms before you begin your business. The biggest buyers are the vermiculture and vermicomposting industries. Vermiculture refers to the use of earthworms as bait whereas vermicomposting deals with earthworms in relation to soil composting. Both these industries require exclusive types of worms. Decide which group you will target and concentrate your efforts on growing the appropriate worms. If you live in a coastal area, select vermiculture to generate profits from the area's fishing industry and individual fishermen.
Focus on providing the best possible environment and food to worms to be used in vermiculture. Keep a watch on the health, reproductive rate and size of your worms. Worms that are intended for use as bait need to be big. With worms used for composting, size is irrelevant. Rather, it is the ability of the worms to cause rapid soil composting that is more important. Channel your efforts in the right direction, to ensure you are ready with an optimum product your customer wants. Your ability to meet his requirement will make him generate word-of-mouth publicity that will increase your profits in the future.
Branch out into the sale of worm products along with the main stock of worms. Worm products such as a new food you have formulated or an innovative worm bed design you have created can be sold to your customers. Approach garden centers to sell castings – worm excrement – from your farm. Castings are a highly effective fertilizer for potted and garden plants. Use all such avenues to generate an additional source of income and give your business an edge over your competitors.
Locate companies dealing in commercial vermicomposting, a process in which compost is converted into valuable dirt. Such businesses will require huge quantities of worms from many worm growers. Speak to them and find out the possibility of supplying worms on a regular basis.
Create a website for promoting your earthworm farm. Highlight the significant role that earthworms play in preserving the environment. Provide information about how worms are useful in converting home waste into compost and how the castings can work wonders in home gardens. Present yourself as a worm farmer who supplies worms to help them become more environmentally conscious.
Conduct awareness campaigns at local schools and hospitals to motivate them to use worms to process the food waste they generate. Offer to supply worms and help the school in the initial setup. This can bring extensive publicity and referrals for your business.