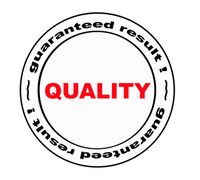 To establish procedures for quality control monitoring, observe the process or processes involved in the quality control monitoring operation. Quality control monitoring documentation in many contexts does not have a one-time status; you may need to define quality control monitoring procedures on a project-by-project basis. Effective quality control monitoring has a client-driven nature.
Things You'll Need
Project specifications
Quality monitoring equipment
Access to various project management and documentation production software
Roles
Define the responsibilities of the quality assurance personnel. Consider individual roles within the quality assurance function, and take into account whether roles vary with differing projects, whether the responsibilities of individuals remain the same across all projects, or whether you have a mixed environment. A mixed environment, for example, might incorporate a setting in which high-level supervisory personnel have equal or comparable quality assurance roles for all projects and non-supervisory personnel have variable responsibilities within project teams for lower-level quality assurance efforts.
Ensure the availability and integrity of the required quality control facilities. Verify that the quality control function has the necessary test and measurement equipment. Obtain any test and measurement equipment required. Provide for an appropriate maintenance schedule to keep such equipment in proper operational condition.
Provide adequate training for all quality control personnel as required. Schedule recurrent quality control training because requirements change as technologies change and the organization takes on different projects.
Ensure clear client specifications on each project. Determine the feasibility of the client requirements; your organization cannot complete a project with specifications cannot be accomplished.
Manage design efforts with the goal of identifying design objectives and identifying means of measuring design success. Do regular review during the design process to ensure that the completed design delivers in accordance with the specifications.
Produce quality control monitoring procedure documentation for the organization as a whole as well as for each individual project. Include identification of responsibilities by title of the position to allow for personnel reassignment or turnover. Include, also, identification of the quality control facilities necessary to monitor each project and the procedures for operating the test and measurement equipment used for each individual project. Include, in some instances, the maintenance schedules and procedures for the test equipment. Distribute the quality control monitoring procedure document to all responsible personnel.