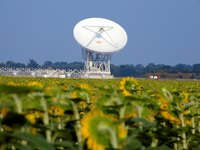 Radio broadcasting is based upon a one-way sound broadcasting system, usually intended for a wide audience. Radio waves are traditionally sent along a transmitter to a receiving antenna. Stations may be linked with radio networks in order to broadcast common programming, sometimes as a simulcast, in syndication or both. Audio broadcasting may be accomplished through local wire networks, cable FM, satellite and the Internet. Using traditional methods to originate a radio station can be very costly. However, there are many free software solutions available for creating and running a radio station over the Internet.
Things You'll Need
Website with dedicated server access
Obtain an appropriate website that can use a dedicated server. Ensure that the web host chosen can technically accommodate running a radio station. Include the following pages on the website: listen page with an embedded player such as Winamp, iTunes, XMMS, Windows Media, or Realplayer; contact us or request page; playlist page; DJ or show page with schedule; page displaying DJs and shows presented with times; and links page. Ensure that listeners must sign up as members for marketing and tracking purposes.
Determine what kind of audio content you wish to broadcast. Think about your target audience and design your programming around the listeners that you would like to attract. Design a program schedule including the shows that you will broadcast. Ensure that you have ample material available to fill up the time you will be broadcasting. Assemble the content you will be using. Arrange for radio show host talent.
Seek legal advice if you will be streaming copyrighted material. Check websites such as loudcity.net, swcast.com, bmi.com, ascap.com and soundexchange.com for information about licensing.
Review for consideration the SHOUTcast DNAS 2.0 service, a free Distributed Network Audio Server (DNAS) developed to stream and broadcast audio content globally. Download the SHOUTcast DSP/Transcoder tool to manage radio station playlists. Register the radio station to create a unique Authentication Key and to be listed in SHOUTcast's Radio Directory.
Consider Peercast, an open source, nonprofit, cross-platform software solution used to listen to radio and watch video on the Internet (see References). Designed as a simple method to listen to radio and view video, their software was developed to eliminate the costs involved for traditional media streaming.
Review the information on the icecast.org website on the document index to find out about its free server software designed to stream multimedia. Read the FAQ to learn more about technical specifications. You can download a free copy of the software to try.
Consider using a free trial such as the one offered at Helix Server Basic at the Real Networks website. Designed for live and on-demand distribution, it can be used for audio, video and other types of media. Because it is designed for beginners, it could be a good solution when just learning about using radio station software.