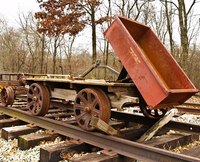 PPE is the accounting term used to refer to property, plant and equipment. This is the term accountants use to describe company assets on the balance sheet. Specifically, PPE refers to assets which are vital to company operations. As such, they usually require an annual investment. They are also considered capital which contributes to income so they can be written off over time through a process referred to as straightline depreciation. Straightline depreciation is the most common depreciation methodology used because of its simplicity.
Obtain the cost of PPE. This is generally referred to as the initial book value. If multiple purchases were made in the same year, add all purchases together for the year. For instance, if you made three purchases for items costing $5,000 each, the total purchase price for PPE is $15,000.
Calculate the average useful life of each item purchased. This is the amount of time the asset will provide value to the company. In this example, the property, plant and equipment just purchased will have an average useful life of five years.
Divide the average useful life of total PPE by the initial purchase price. For example, $15,000 divided by five years equals $3,000. This represents the annual depreciation expense for the equipment.
Subtract the annual depreciation expense from the original value of the asset. For example, $15,000 minus $3,000 equals $12,000. This is the book value of PPE in Year 2 after writing off the depreciation expense of $3,000 for Year 1. After five years, using the straightline depreciation method, the entire amount of PPE will be written off.