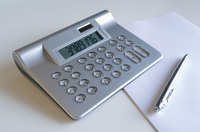 There are several aspects to a production process. Average product, also known as average physical product (APP), measures the amount of a product made as a function of a variable input such as the cost of raw materials or labor. APP is the amount of product (output) as it relates to each unit of input. APP helps to answer questions such as "If the labor force is doubled, will the output double?"
Define the time period of production for the APP calculation such as 24 hours or five work days.
Measure the total production over the defined time period.
Measure the variable input over the same time period. For instance, if you are calculating APP as a function of labor, find the number of employees or work hours over the defined time period.
Divide the total production by the total variable input used to determine the APP. For example, if the variable input is labor-hours, divide the total production by the total labor-hours for the APP.