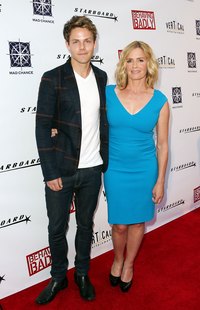 The V-neck started out as an undershirt, evolved into acceptable day-to-day attire and eventually made its way into ensembles appropriate for casual dinner parties or company picnics. While you shouldn't sport a V-neck to a wedding, you can still smarten up this timeless T-shirt with the use of layers, classy bottoms and appropriate accessories, no matter the season.
Warm Weather Wear
For the guys, wearing breathable cotton chinos instead of shorts and choosing a V-neck with an interesting but subtle-pattern -- chunky stripes, for instance -- helps elevate the simple tee. You can even encourage air flow by going sockless, cuffing your pants and showing a little ankle with a pair of comfy suede shoes or boater shoes. Ladies, keep things cool while refining your tee with a breezy skirt -- choose a brave pattern and pair it with a chunky belt and solid-colored V-neck to really make your ensemble pop.
Clothes for Chilly Climes
Layers are key to sprucing up a V-neck in the cooler seasons. A well-fitted blazer does the trick for both men and women. Pair it with dark-dyed selvedge jeans or wool pants to stay warm. A leather jacket also pulls gender double-duty. For a dressier look, stick with a slim-cut number paired with chinos, twill pants or heathered pencil pants. Add a time-tested cardigan to quickly dress up a solid-colored V-neck -- a long, flowing cardigan worn open adds a little feminine grace. Likewise, layer up with a pea coat, casual trousers and boots for effortlessly classic style.
Accessorize Accordingly
Scarves serve as a unisex accessory that add lots of texture to a plain V-neck. Ladies, try an infinity scarf or lightweight rectangle scarf, loosely tied. For men, a draped scarf worn between a V-neck and an outer layer works well. A leather clutch or sleek messenger bag with a cross-body strap refines the shirt and adds utility to your outfit. This tee's neckline accommodates necklaces particularly well; choose a necklace that hits a bit lower than the point of the "V" -- you can really get away with elegantly long pieces due to the plunging shape. Men can achieve a similar effect with a metal or leather watch.
Suitable Shoes
For men, a well-kept pair of leather loafers, such as wingtips or penny loafers, goes a long way in classing up a V-neck-and-chinos ensemble. Women can substitute oxfords or ballet flats to add a slightly more formal edge to a casual tee, or even pointy toed slip-ons if your tee is paired with more formal bottoms and layers. Either sex benefits from a pair of a leather boots for a look that is more formal than sneakers but retains a rugged edge.