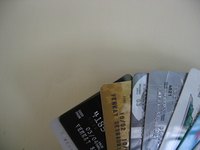 Joint borrowers on any credit account are equally responsible for the repayment of the debt. This is why it is not the best idea to co-sign any loan. In these arrangements, both the primary borrower (the person needing better credit) and the co-signer are equally responsible for the debt, and the cosigner, more often than not, gets stuck with the debt. In order to remove a primary borrower from a credit account, you will most likely need to refinance the account.
Things You'll Need
Account statement
Original loan contract
Income documents (pay stubs, W-2s)
Pull out all documents relating to the account in question. Most important are the loan statements and the original loan contract. Very few loan accounts give the possibility of borrower removal. In most cases, these are student loans that give parents the option to bow out as co-borrowers or co-signers.
Contact the original lender and speak with an account servicing representative. You may need to ask about removing a borrower. In most cases, you will find that you cannot remove a borrower without refinancing the account.
Pull your credit report. In order to qualify for the account just on your own, you need to make sure you alone have qualifying credit. Visit Annual Credit Report for a free copy of your report. Also, pay for your FICO score. This three-digit number between 300 and 850 represents total creditworthiness. Scores over 700 are excellent. Scores below 600 are poor.
Calculate your debt to income ratio (DIR) if you will be taking over the loan on your own. To calculate your DIR, divide the sum of all your monthly expenses by your total gross income (just your income, not the primary cardholder's income). Excellent DIRs are those lower than 35 percent. However, you may qualify with a DIR as high as 50 percent. Your income alone must carry the loan in order to refinance and take the primary cardholder off the account.
Apply for a refinance of account if your income and credit are strong. Apply with the same lender first, as you may get similar (or better) terms on the loan just under your name. Make sure you have copies of your income documents to fax or mail to the lender.
Collect several loan offers on the refinance. Compare the fees and rates to the original loan contract. You do not want to put yourself in a more precarious financial situation. Choose the best and most advantageous refinance offer and close the loan under just your name.