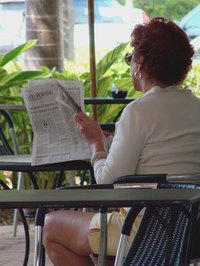 The single most important thing to remember when writing a press release is to get to the point. Due to space restrictions, an editor is going to cut off all but the first two or (if you're lucky) three paragraphs of your submission. With that in mind, start with a brief description of your organization and what it does (that should be implicit in its title). State what you are doing, where and when (and why, if it's not obvious) and how people can participate or contribute. If it's a good story or cause you might be contacted for an interview and photograph but don't expect that.
Things You'll Need
Contact information for newspapers, radio stations, TV stations and other information outlets.
Submission deadlines for those organizations.
The most basic information about your organization's cause or event.
The most basic information about your organization.
Photograph of people involved or a past event.
Associated Press Stylebook
Online access.
Request the submission deadlines for your local newspapers, radio stations, TV stations and other media outlets. Often these are at least a week before the event, possibly more if it's weekly or bi-weekly publication. It doesn't matter how important the event is; if you miss the publication cutoff date, your story will not be included. Many publications now have websites, but even those are updated on a regular schedule which probably won't be altered on your organization's behalf.
Organize the most basic information someone needs to know about your event and organization. This means the "5 Ws and the H." Who: Name of the organization and event and a contact person for more information. (If the media contact person is different from the public contact person, state that.) What: Type of event (dinner, auction, concert) and a brief description. When: The proper order is time, day and date (and then place). Time is written "10 a.m." not 10 AM or 10:00 a.m. The day of the week is not abbreviated. Months are abbreviated except for March, April, May, June and July. Where: The event's location with a street address (including city) and directions if necessary. Write out the numbers one through nine and use numerals for 10 and up. Why: A brief description of why the event is being held. Once again, be as brief as possible. How much: Admission prices, including where and when and from who to buy tickets. List age groups if applicable. If it's free, just say that; do not say "free and open to the general public."
Write your press release. Consult your AP Stylebook to make sure your press release is written in AP style. The less revisions the newspaper must make to conform the article to its style, the better chance you have of getting your article published. Include a photo of people involved with the event or of a past event. It may or may not be included but a photo does get people's attention, including the editor's. Then have two other people proofread it. Don't just rely upon your computer's spell check or grammar check features. Typos and grammatical errors reflect badly upon your organization and a wrong time, date, place or ticket price can be a nightmare.
Distribute your press release by whatever means the information outlet requires such as email (in the desired format, especially photos), mail or in person. Then, be available for questions, either by cell phone or email or both.