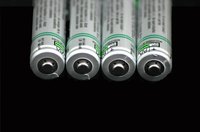 Selling used items can be challenging. The seller doesn't always know whether or not there is a consumer for his or her product and often just figuring out where to place an ad indicating that you are selling a used item can be daunting. Used batteries may seem like something that no one can use, but they have a number of uses and you many find very interested buyers. The Internet has made it easier than ever to find ways to sell virtually any used item.
Things You'll Need
Place an ad for your used batteries on an online auction site like eBay. Include a description of the batteries and be sure to indicate that they are previously used. If you neglect to mention that, buyers may think that they are buying brand new batteries, which can cause charges of fraudulent advertising.
Post an ad on a local community website such as Craigslist. This will allow potential buyers in your area to buy your used batteries. If they are interested ,they can even come over and examine the batteries before making the purchase.
Call your local newspaper and ask to place an ad. Give them all of the pertinent information about the batteries and how to contact you.
Announce that you are selling used batteries on Twitter, MySpace or Facebook. Using a social networking site will make your announcement immediately visible to your friends and acquaintances who will then be able to contact you if they are interested in purchasing your used batteries.