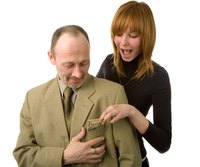 People can be motivated by self-interest–as in, what they will get out of completing a task. One way for a business to harness this self-interest is to set up an employee profit sharing plan. In a profit sharing plan, a business sets a goal, and if the company hits the goal, it will contribute a predetermined share of the profits to an employee pension plan, or pay the employees bonuses in cash or stock. Enabling your employees to share in increased profits can be a powerful incentive for motivating them to work harder, as they will be rewarded for their extra work.
Decide what the purpose of your profit sharing plan will be. One option is to use it to help fund a pension or 401(k) plan for your employees. This is a deferred plan that the employees will not be able to access until a certain date in the future. IRS regulations state that a deferred profit sharing plan must meet two conditions. You can contribute no more than $49,000 or 25 percent of employee compensation annually, whichever is lower. The limits are per employee. Regulations also require that 70 percent of your employees, who are between the ages of 21 and 65 and have at least one year of service, participate in the program. Your other option is to award employees a predetermined share of the profits in cash or stock.
Design and set up the plan. Decide on a formula to determine how the profits will be shared, how employee eligibility will be determined, and the length of time people need to be employed to receive the full amount they are entitled to under the plan.
File paperwork with the Internal Revenue Service each year, including Forms 5500 (annual reports) and 1099-R (yearly distributions) for your profit sharing plan. The 1099-R forms must be filed with the company and sent to each employee who received distributions or payouts as part of the profit sharing plan in that tax year.
Administer the plan. You can administer the plan yourself and set up a trust fund to hold the plan's assets. You should, however, consider hiring a financial institution, such as a bank or a mutual fund company, to manage the plan under your supervision. The administrator must then create a written plan that employees can refer to, keep accurate records of the plan's finances, and file all necessary paperwork with the IRS each year regarding the plan's contributions, distributions, and earnings from investments.
Keep your employees informed about the plan, and what they can potentially gain if the company's performance goals are met. If they're not aware of this, it defeats the purpose of using the plan as a motivational tool.