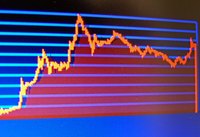 Investors have for years turned to the stock market hoping to reap greater returns than the other standard investment vehicles like banks and retirement funds. Investing history is rife with stories of exponential returns made on a low, one-time investment. These are the exception rather than the rule, but like the miners of the gold rush days, people are still attracted to the lure of such mother lode profit potential. Few other human emotions can claim credit for the financial ruin that greed has caused. Combine discipline and strategies to avoid investing disaster.
Limit your investing. Invest only a small percentage (10 percent or less) of your total available investment funds into the market. Remember that "investing" is the dressed up, college-educated term for gambling. Do not be fooled into putting too much confidence into "market indicators." They are as fallible as any other human-devised guess tool.
Evaluate your investments. Look for those which are performing well, and find those which are not doing so great. Set the rate of return you want to earn per investment, say seven to 10 percent. Keep and monitor closely only those that meet this threshold.

Diversify your stock market holdings. Invest in the different, stronger performing sectors of the market. Mix emerging companies with some of the older, more established stock market performers.
Use the other 90 percent of your available funds from Step 1 to invest in tangible or hard assets. Hard assets are assets that can be held in your hand and viewed directly. Build the bulk of your investment portfolio with these kinds of assets, while minimizing soft or intangible investments. Soft assets are paper notes. They represent a promise to pay in the future. The actual asset can not be held physically. They are wealth on paper only, and the most vulnerable to loss.
Look for and buy land, a Step 4 hard asset, near main traffic arteries and water. Find and buy rural farm land nearest large or proposed developments. Make these cash purchases. Do not enter into any long-term payment arrangements that siphon profit.
Secure the property in your name as quickly as possible. Make sure you calculate the total tax liabilities over the period of time you are willing to hold the land. Evaluate land purchases based on the land value being high enough at the point of resale to offset the tax obligation.
Investigate and purchase precious metals. Consider gold, silver and platinum, since they are among the most precious. Buy the actual, physical coinage of these metals and store them for safe keeping.