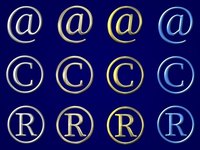 United States copyright laws do not protect phrases and slogans. They also do not protect names. In order for something to be protected by copyright, it must meet a certain amount of authorship in the form of original literary, musical, pictorial or graphic expression. Ideas and phrases do not qualify for copyright protection.
Instead, protect yourself by registering your phrase or slogan as a trademark. The US Patent and Trademark Office states, "The federal trademark statute covers trademarks and service marks—words, phrases, symbols, or designs that distinguish the goods or services of one party from those of another." Trademarks can be registered at the state or federal level.
Things You'll Need
Trademark application
Filing fee
Description of goods and/or services
Decide if you wish to trademark in standard character format or a stylized design. The US Patent and Trademark Office does not allow a combination of the two. The standard character format is used to trademark a phrase or slogan that is made with standard characters. In other words, you can use any color or font as part of the trademark and switch the colors and fonts out at will. This differs from the stylized trademark, which is a design. McDonald's golden arches is an example of a stylized trademark.
Search through the US Trademark's database to ensure that your proposed phrase or slogan is not currently under trademark protection by someone else. You will also want to research through your state's trademark office.
Decide if you are going to register as a state trademark, a US trademark or an international trademark. Once you are certain your proposed phrase or slogan is not registered, fill out the trademark application.
List the specific goods and/or services on the application that will be used in conjunction with the trademark. The application cannot be completed without this required information.
File your application. Filing on-line will receive a faster response than filing through the mail. There is a fee associated with the application. International application fees are higher than US applications.
Prepare to wait. It will take three months before the US Patent and Trademark Office will complete their own investigation as to whether or not the phrase or slogan can be trademarked. From there, another three months will pass before the trademark is published. You can follow your application's progress by registering on the US Patent and Trademark Office's website.