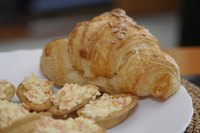 French pastries, breads and sweets, such as eclairs, baguettes, croissants and brioche, are loved by many people. These specialty baked goods can command moderate and high prices, since there is a great amount of expertise needed to produce authentic French pastries. Opening a French bakery can be quite profitable and enjoyable, but you will need to thoroughly plan your venture to ensure its success.
Decide what type of French bakery you want to open. For example, you can sell artisan French-style breads, only sell macarons (the French word for macaroon), traditional French pastries with modern twists, wedding cakes or cupcakes inspired by traditional French desserts.
Obtain the training you need to prepare French pastries and breads, if you have little or no French baking experience. You can attend a pastry chef program at your local community college, vocational or cooking school for training. Alternatively, learn by trail and error on your own by reading books, studying videos on French pastry making and testing recipes on family and friends.
Name your bakery business, ensuring you emphasize the fact that it is a French bakery. For example, "Jane's Cakes" isn't a good choice because it does not denote that fact that you're selling French pastries. However, "Jane's French Pastries,,"Jane's Pâtisserie" or "The Parisian Bakery" would all be suitable.
Get the permits required in your area to open a bakery. This may include food handler permits, food manger certification, a food enterprise permit, assumed name certificate (DBA), employer identification number (EIN) or tax identification number. Contact your local small business development center, SBA office or public health department to find out exactly what you need.
Choose a location for your French bakery. Keep in mind your area's requirements for a food establishment, including proper ventilation, sewer and water systems. You can sell your specialty pastries and breads at farmer's markets, in a stand-alone shop, mall kiosk or food court, in an existing business such as an independent grocery store, coffee or smoothie shop, or through a mobile food vending unit.
Decorate your bakery to give it a French atmosphere. This can include choosing a décor style such as French country for a rustic artisan bread bakery, the Paris apartment style if you will be selling delicate pastries, or simply hanging photos and memorabilia from France.
Promote your French bakery by listing it in print and online local business directories, opening a promotional blog or website, and sending coupons and fliers to complementary businesses such as florist shops, wedding dress stores and event planner offices.