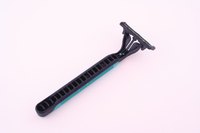 To cut, or not to cut? That is the question when it comes to that patch of hair below the equator. While there may be arguments for not doing it, public hair just doesn't look clean and sleek when you're wearing a swimsuit or short shorts. Cutting, shaving or trimming pubic hair isn't just a female thing anymore, either. Although they don't talk about it, many men are doing it too.
Things You'll Need
Safety razor
Shaving cream
Moisturizer or vitamin E gel
Use the right tools for the job. Scissors are okay if you have steady hands or if you delegate the job to someone you trust. Electric beard clippers work well and won't cut the skin if you use them correctly. They are expensive, however, and a little clumsy for delicate work. The safest and most affordable method to cut pubic hair is to use a safety razor.
Pick the style you want. To clean up the bikini line, a triangle is a good pattern. There are many styles you can choose from, including the landing strip, a single line of hair from the top to the bottom of the groin, and the Brazillian cut (completely bare).
Cut back the pubic hair using a scissors if you haven't shaved before, or if you let it grow out. Don't attempt to cut down to the skin on this first pass even if you have decided to use a scissors for the whole job. Just take off the longest part of the hair, leaving about 1/8 to ¼ inch remaining.
Wet the hair thoroughly and then apply a generous amount of shaving cream to lubricate the skin. Using plenty of lather keeps you from nicking your skin or causing razor burn in that very sensitive area.
Shave the remaining hair in short strokes that go against the grain for a nice, clean, smooth finish. Remember to include the inner thighs too.
Rinse remaining shaving cream and loose hair off. Apply a moisturizer or vitamin E oil to soothe the skin. Freshly shaved skin done for the first time is more sensitive and likely to be irritated. Subsequent shaving will produce less rash or soreness, but moisturizing is still a good idea.