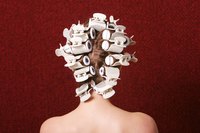 There are a few basic styles that can be tweaked to create any hairstyle you are looking for from a casual ponytail to elegant curls. Once you know how to do the basics, you can play around with different styles to see what suits you best. As with any personal beauty topic, practice makes perfect, so the more you try new styles, the better you will become at doing your own hairstyles at home.
Things You'll Need
Paddle brush
Flatiron
Blow-dryer
Smoothing serum
Hair bands
Bobby pins
Mousse
Curling iron
Backcomb
Hairspray
Accessories
Create a sleek hairstyle by straightening and preparing hair for a variety of styles. Use a paddle brush and blow dryer to smooth hair as you go or tame thicker hair by using a flatiron. Smooth flyaway hairs with a serum, leaving hair sleek for a ponytail, chignon or letting it hang straight.
Pull the hair up into a ponytail or prepare it for a chignon by brushing and gathering all of the hair to the direct center of the back of the head or at the nape for a low ponytail/chignon. Secure the hair with the ponytail holder, and leave alone for a simple ponytail. For a chignon, twist the hair from the ponytail holder to the tips, and wrap around the holder. Secure the chignon to the head with bobby pins.
Curl the hair for a special occasion or elegant look. Apply a dollop of mousse, rub the hands together and run the hands through the hair, concentrating on getting most of the product on the hair and not the roots. Blow dry thoroughly and curl as desired. Allow the curls to cool and run your fingers through the hair, breaking up curls for a softer look.
Tease the hair for volume to use in a variety of styles, like ponytails or updos. Pull a section of hair up from the crown of the head, and use a thin rat-tailed comb to back brush the section of hair near the roots. Release the hair, and smooth the top back with a comb, then setting the style with hairspray. Leave the hair long, pull it into a ponytail or style the hair in an updo.
Add accessories to the hair like headbands, barrettes or hair jewelry to dress up styles. Accessories may be used with any hairstyle to keep hair slicked back or add a finishing touch.