Post office boxes offer several advantages over residential mail boxes. Post office boxes offer privacy and permanence for mail retrieval. If individuals, families or small businesses move, the mailing address does not have to change. Private correspondence is protected in a post office box, where only those with a key can access the mail. Mail is usually delivered more quickly to a post office box than a residential address. To rent a post office box one must have two forms of acceptable identification.
Things You'll Need
Postal Service Form 1093
Method of payment
Photo identification
Alternative identification
Find the post office you would like to use and decide on the size post office box you need. Search online at the U.S. Postal Service website using a zip code or address. Search results will provide information on availability of boxes, sizes and prices. The physical address of the post office, lobby hours and phone number is also listed.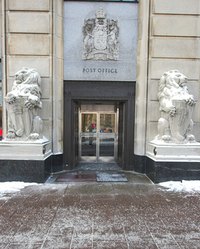 Complete your application. For online applications, go to the U.S. Postal Service website. The first payment must be made with a credit card. Print the application, Postal Service Form 1093. If not applying online, pick up your application at your local post office and fill it out.

For online applicants, go to the post office with your printed application and two forms of identification. Pick up your keys or get the combination number of your box. Arrange to pay at the post office or to make automatic payments with your charge card. For those who apply at the post office, bring two forms of identification and a method of payment. Pick up your keys or combination. Make arrangements for your method of payment.