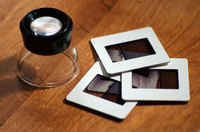 The digital camera changed the photo industry radically. More stock agencies exist than ever before, millions of digital images are instantly available online and prices can be as low as 1 cent. The advantages to starting your own stock photo agency in a highly competitive market are that you control the pricing structure and you will reap the benefits of selling your photos, rather than making a percentage of sales. If you are not afraid of cold calls and hard work, you can be successful.
Things You'll Need
Business phone line
Photographs
Photo editing software
Computer
Scanner
Internet connection
Website
Camera
Establish and license your business, and get a business phone number. Decide what type of business structure fits your needs. Each type carries tax consequences and it is best to check with a tax professional before making your choice. At the very least, consider establishing a "Doing Business As" (DBA) name for a sole proprietorship. Should you sell your agency in the future, you won't want to be restricted from using your own name for future endeavors.
Check with your local government to see if you need any business licenses. Complete the paperwork to set up and license the agency once you have decided on a name and company structure.
Examine and edit the images in your digital photo library. Required image sizes will depend on where you sell your images, but large file sizes and high resolution images are preferred. JPEGs are commonly used for the internet, magazines, books and newspapers. Other media may require TIFF or RAW formats.
Scan any of your older prints, color transparencies and film negatives you think will sell. Images should be free of dust and blemishes. The type of computer, software and scanner you use is a matter of personal preference and budget.

Tagging your photos with keywords is important. Using your photo-editing software, enter every keyword or phrase that comes to mind when you look at an image. Consider purchasing commercial software for keywording photos. Some allow you to add keywords to multiple images at the same time, which is handy when you have many images of the same subject.
Create a website for the new agency to offer your images for sale or licensing. Use search engine optimization (SEO) in your site's design. Photo buyers begin their picture search on the web and SEO is one way to help them find you.
Protect each image online with a watermark so that the image can be seen, but not readily used without permission. Some agencies also protect their photos from right-click downloads.

Research your market, talk with other photographers and consider where your photos will appear before pricing your work. Photographer Dan Heller calls pricing photos "the Holy Grail of the photography business." A calendar with a small print run will generally command a different price than a glossy magazine with a circulation of several million. Flexibility is key.
Market your stock photo agency. Use resources such as the latest edition of "The Photographer's Market," published annually by Writer's Digest, to find outlets. Read magazine and newspaper mastheads to create a contact list of photo editors. Sending a postcard created from one of your images is a great way to get people to notice you. Be sure to include your website's address on the postcard.
Keep your camera busy and continue to build and update your photo library. Upload new photos to the website regularly to keep your stock fresh.