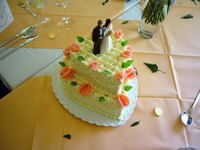 Creating and decorating cakes for family, neighbors and children's birthdays is a fun way to celebrate any event. If a person does them often enough, the idea to sell them comes to mind. Decorating cakes as a full time business for profit can still be fun and enjoyable as long as certain procedures are followed. These include ensuring zoning laws and business licenses are in order, to making sure any health certificates are in place for preparing home-based food products.
Things You'll Need
Inspected facility for creating cakes (at home if allowed or professional kitchen)
Zoning certificates for home based business
Local business license
Food handler's card, if applicable
Area of the home reserved for business
Contact local business authorities to ensure you can actually bakes cakes for resale inside your home. Some cities do not allow this for health reason, or may indicate that the kitchen needs to be inspected and possess separate food preparation areas, refrigeration and wash areas and have no pets running around. If your kitchen does not qualify, scout out a local church kitchen, small bakery or other commercial facility to rent out. Other places may be more than willing to share space to help with their overall costs.
Find out if a business license is needed in your area, and if your house needs to be zoned as a home based business. Apply for a business license with both the city and county. Separate business licenses are sometimes needed for each, and for some unincorporated areas may not be needed at all. Zoning laws may be separate from the actual business license and these are easily applied for at the city or county zoning authority. A home based business license and zoning may require that no signs will be permitted on the premises or have multiple customers pull up and shop at your house on a regular basis.
Ensure that you know how to prepare and serve food safely to prevent food-borne illness. If you have no culinary background, then sign up with a county authority to receive food safety classes. These are generally low cost or free with a simple test at the end to make sure food preparers know what the danger zones are for food, and that food is served safely.
Establish price points from a menu of cake options. This includes coming up with a list of cakes you can do, selections for frostings and decorations that can be created. While many customers may have certain requests or different ideas, the basic menus and pricing will be a starting point for negotiation.
Think about how you want the cakes to be delivered. If you will be delivering them you will need a vehicle with air conditioning during the summer time and large enough to fit cakes inside. If you will be making cakes and having the customers pick them up, establish a pick up area so the clients can easily pick them up at your house.
Find an area of your home that is reserved for your business. Anywhere will do, but having an area just for the business will make calling customers and bookkeeping much easier.
Round up a list of possible clients and start advertising. An upcoming holiday or special local event is always a great way to begin advertising since many people are celebrating anyway.