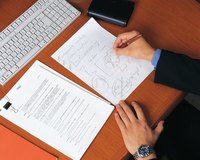 A corporate loan—most often referred to as a business loan—is a loan granted to a business by a bank or other financial lending institution. Terms can be as short as six months or last as long as three years or more.
To obtain a corporate loan, a business owner will need to show what the loan is for, and provide the lender with a business plan and/or pro forma statement.
Things You'll Need
Business plan
Pro forma statement
Identify your corporate loan needs. Securing a corporate loan requires that the borrower be able to specify the amount of the loan and the reason for the loan. Corporate loans are granted on the basis of the corporation's credit and the business owner's credit and ability to repay, as well as the borrower's ability to clearly identify what the loan will be used for.
Draft a business plan. For new businesses, obtaining a corporate loan from a lender will require a business plan and possibly a pro forma statement. A business plan demonstrates how the business will be structured and operate, while a pro forma statement estimates profits and expenses. Business plans can be written with the assistance of an on-line business documentation service; pro forma statements are typically prepared by a CPA.
If the business is already established (usually more than two years old), lenders will accept a Profit & Loss Statement (P&L Statement).
Prepare your collateral. In almost every instance, the borrower will be required to put up collateral for a corporate loan. Collateral may include, but is not limited to, personal assets such as cash, real property or personal property, business receivables, and business assets.
Compare corporate loan products. Compare not only interest rates, but other factors such as application fees, maintenance fees, and collateral requirements. Also consider amortization and early repayment penalties when making comparisons.