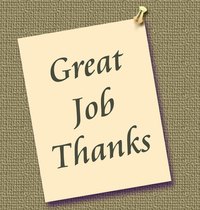 Receiving customer feedback is important for any successful business. It's good for the bottom line to see operations from your customer's perspective. It's just as important to manage that feedback as to receive it. Although it takes time and effort to remedy some issues customers may have, properly handling compliments and complaints will tie directly into your profits.
Things You'll Need
Customer feedback forms or cards
Gather all feedback, whether from cards that customers have completed, notes from employee interactions or telephone calls to management. Review each one carefully, determining if it is a complaint, compliment or neutral comment.
Separate the feedback so that you have a clear determination of which pile is larger. Place the most important comment on top of each pile.
Analyze the feedback that you have sorted. Discover trends and commonalities in the positive, negative and moderate comments. Use positive sentiments to continue the strengths identified. Use negative criticism and moderate remarks to find weaknesses that may be improved and corrected. Make a list of improvements needed and determine the difficulty level of each task.
Meet with your employees and discuss both the positive and negative assessments of customer service. If all bad comments are attributed to one person, discuss the performance in private and give clear expectations of how to improve. If the trend suggests that it is a training issue for staff as a whole, determine the focus of the coaching that will be used to bring performance to satisfactory levels. You may ask your employees for ideas and suggestions, and incorporate them into your plan.
Log all customer feedback on a spreadsheet in order to keep track of the direction that comments take. Use the customer feedback forms in the future to congratulate your team for solving the issues that have been resolved. If you determine that more training is necessary, you may want to schedule employees to attend seminars and workshops with more in-depth information to ensure that customers always leave with a positive image of your establishment.