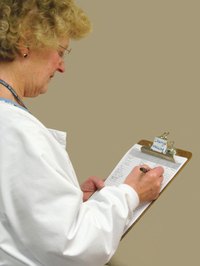 A home health care agency in Wisconsin consists of nurses who deliver skilled nursing care to patients in their homes. All health-related licenses go through the Wisconsin Department of Health Services, and the process can seem quite complicated. There are a multitude of forms to file, but keeping records of each step you take will help you stay on track. Initial licensure could take up to six months to approve.
View the Division of Quality Assurance webcast for home health applicants, available on the Wisconsin Department of Health Services website.
Obtain an application by calling a Home Health Licensing Specialist at 608-266-7297. Fill this out and submit it. You will also need to submit a background check authorization for each person who will be working with clients.
Pay all associated fees with your application ($300 as of May 2010) and background check ($10 per person).
Comply with Wisconsin Administrative Rule DHS 133 for Home Health Agencies, which requires that you submit multiple other forms.
Submit the proper forms to comply with Wisconsin Administrative Rule DHS 13: Reporting & Investigation of Caregiver Misconduct.
Use your probationary license to start your business. Apply for your regular non-expiring license before your probationary license expires (90 days after issuance).
Give written notice to the state board after your agency is fully operational.