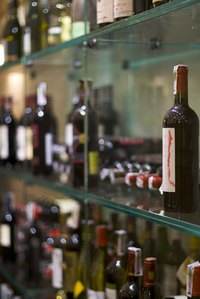 Starting a business is at the heart of the American dream. To run a business is to be in charge and to be a true provider of what the consumer wants. A bar or lounge is a place where people come together and socialize. It must be inviting and comfortable, which alone has dozens of business considerations.
Determine a location for the bar. Start by considering where a bar would be useful to the consumer--such as a place underserved by other bars or socializing venues. Inquire into the zoning laws and average rent prices for that area. Look into developing neighborhoods as they may be cheaper to rent or lease and will also give an idea as to the demographic of the area around which to develop the bar concept, whether it be a sports bar, nightclub, or so on.
Obtain the necessary capital for starting a bar. Have at least $50,000 or start finding investors to help fund the project. Develop a thorough business plan to present to prospective investors or lenders. There are many costs, including procuring the necessary permits, insurance, inspections, and construction. Apply for a liquor license as soon as possible as the paperwork for those permits can take months to approve plus another few months if anything goes awry in the process.
Design the interior of the bar. Determine who might find the atmosphere aesthetically pleasing and if they might regularly frequent a bar in that location. Hire an interior designer if the job becomes too daunting or overwhelming. Do not rush something as important as atmosphere.
Hire a reliable staff. Make sure the staff is trained in the necessary operations of the bar. Design uniforms that accentuate the server as well as the general tone of the bar. Be very clear and precise in developing staff duties and designing jobs that keep the employee safe and productive.
Promote the bar before opening. Make sure the promotions capture the tone and feel of the bar to attract customers. Post fliers around town, use the newspaper and local periodicals for advertising. Utilize the Internet to keep printing and marketing costs down.