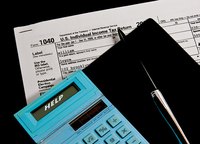 According to the IRS, tax depreciation refers to the annual income deduction that allows you to recover the cost or other basis that you have invested in a certain type property. The following types of tangible and intangible properties are listed as depreciable with the IRS: buildings, machinery, vehicles, furniture, equipment, patents, copyrights and computer software. You must own the property in question, use it for a business or income producing-activity, possess a determinable useful life and last longer than one year. Tax depreciation is calculated using the Modified Accelerated Cost Recovery System, or MACRS.
Things You'll Need
Basis of property
Date placed in service
How to calculate tax depreciation
Determine your basis in the property. For most situations, the basis will be the costs associated with the purchase along with any expenses necessary to make the property functional. Such expenses can include construction costs, zoning fees, improvements to existing structures or vehicle registrations. To determine your basis in a property that was not purchased (i.e. gifted, inherited, traded, etc) see IRS publication 551.
Decide if you are going to use the general depreciation method or the alternative depreciation System. The GDS method has a shorter recovery time, allowing for a quicker recuperation of costs. The ADS method has a longer recovery time leaving a longer time to recuperate costs. Certain circumstances will necessitate the use of the ADS method. Consult the IRS publication 946 to see if your property meets these requirements. The chosen method needs to be declared on a Form 4562 the year the property is put into service.
Establish the property's recovery period by examining the MACRS Table of Class Lives and Recovery Periods found in the IRS publication 946. Any property that cannot be found within this table is automatically considered to have a seven-year recovery period.
Verify the date that the property was put into service. This date will mark the start of depreciation, regardless of when the property was purchased. Choose the appropriate convention for depreciation of the property, using the date it was put into service as a guide. Conventions refer to the time within the tax period that you would like to begin depreciating new property. Choices include the half-year, mid-quarter and mid-month conventions which allow you to select a point within the tax year to begin depreciating. The half-year and mid-quarter conventions have listed exceptions and excluded items that will influence your choice. The Mid-month convention is used primarily for residential rental and nonresidential real property. For more information, see IRS publication 946.
Multiply the property's depreciable basis by the appropriate percentage according to the MACRS tax table, which can be found in the IRS publication 946, Appendix A. This table will provide you with the property's class and percentage of depreciation to use according to the convention chosen. Once the appropriate depreciation amount has been determined, fill out tax form 4562 to report your depreciation.